The Best Beach Wedding Dresses for Summer 2013
If you read DressilyMe blog often, you know we've written some post about
beach wedding dresses
in the past. As the summer upon us, I think brides are slowly falling for this trend too. I used to think this trend was more appropriate for the
beach
wedding
than other themes. However, with a ton of gorgeous pieces appearing in the market, I had already changed my mind! Read on to see how these beautiful
dresses
look for summer.
Soft and Flowing Beach Wedding Dress
This breathtaking dress features a criss-cross bodice with just a little bit of sparkle. It then flows out into a truly princess-style dress that will make any woman feel gorgeous. It's very simple yet unbelievably beautiful.
Textured Beach Wedding Dress
This
beach
wedding dress has a very elegant, form-fitting bodice and a textured mermaid skirt that is extremely interesting to the eye without being complicated. This would pair well with elaborate or heavy jewelry.
Calf-Length Beach Wedding Dress
Perfect for an outdoor or beach wedding, this calf-length dress also has a ruched bodice as well as a lace embellishment and a simple applique skirt. It's very simple and would be look outstanding on any woman.
A-Line Beach Wedding Dress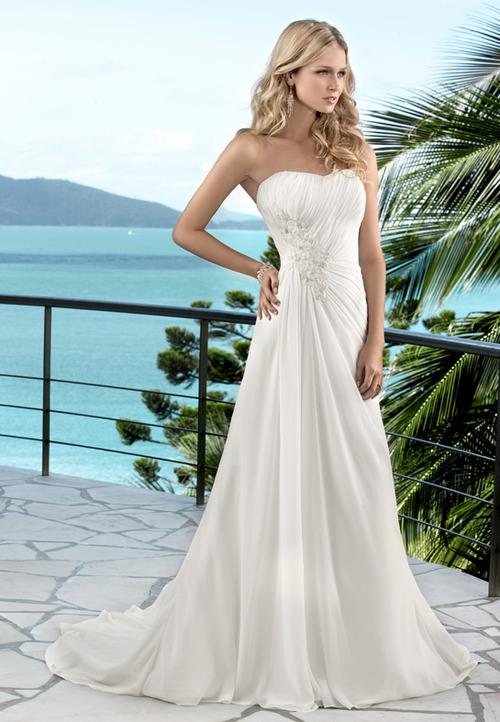 Fabulous for a summer beach wedding, this A-line, scoop neckline dress flows and elongates. It's incredibly simple, with only a bejeweled decoration at the waist, but looks absolutely fantastic.
Soft Overlay Beach Wedding Dress
This dress is ruched from the bodice and waist to the toe in soft, simple overlays and waves. The bodice is fully gathered and the side hip is adorned with handcrafted flowers, making the dress irresistibly simple but oh, so romantic!
Free Shipping Wedding Dresses at DressilyMe
Free Shipping Wedding Dresses are now in full swing at DressilyMe
. Just seize the time to grab this sale!
What Do You Think?
Do you like a beach wedding dress? Which style you would like to wear?
What other pieces would you like to see next time? Leave a comment and let's discuss!