Bridal Sleepwear For Your Special Wedding Night
Here at DressilyMe.com, we believe that shopping perfect
lingerie
is part of a
bridal
fashion plan which is a fun experience for many brides. While for different purposes, sometimes brides choose a corset, sometimes it's the strapless bra. But what to wear for the special wedding night and the following honeymoon.
Today, we propose the seductive bridal sleepwear.
Read on for some of favorite picks!
Bridal Sleepwear - Camisoles
It's true that majority of brides go on the
bridal
look by choosing a white camisoles. It can be matched as a set with garter too and comes as one option for a soft touch of the accessories.
A chemise with a cover coat, bra and T-back pants , follows the contour of your silhouette.
Bridal Sleepwear - Babydolls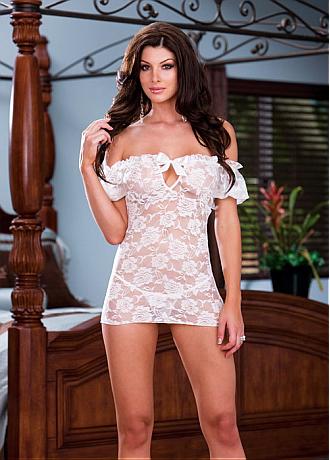 Another common
bridal
sleepwear is the romantic touch, of a slightly sexy view - the babydoll. It's the alternative may impress you more, with different colors and styles. This lace baby doll is set for
bridal
sleepwear. It is all about lace, even the T-back is white with such a design look, accessorized with a delicate touch robe, lace at the off the shoulder style.
This
bridal lingerie
again comes with a babydoll with transparent off the shoulders and bust selvage, the same for the bottom part of the baby doll. The pink color makes it more seductive.
Save Up to 50% Off Bridal Lingerie
Sale for Sexy Lingerie is now in full swing at Dressilyme.com:
Get Up to 50% Off Bridal Lingerie
. The offer will be valid till 5/14, just don't miss it out!
What Do You Think?
Would you wear a bridal sleepwear? How do you think of a lace babydoll?
Be sure to share your idea with us by leaving a comment below.